Introducing the Scooter
Hey there! Have you ever thought about what makes a great electric scooter for kids? Well, the Evercross EV06C might just be the answer. With its sleek black and blue design, it's not just any ordinary scooter. Let's dive into what this cool ride offers.
Why It's Gaining Popularity
Electric scooters aren't just for adults anymore. More and more kids are hopping on this trend, and it's easy to see why. They offer a mix of fun, freedom, and a touch of grown-up vibes. But, what makes the EV06C special among its peers?
Designed for the Young Riders
It's tailor-made for youngsters, especially those aged 6 to 12. The scooter isn't just about speed and flashy lights (although, yes, it has those too!). It's about finding that sweet balance of design, safety, and thrill, all while keeping the kiddos in mind.
Diving Deeper into the Key Features
Custom-Fit for Young Adventurers
When it comes to gear for kids, one-size-fits-all doesn't always cut it. The EV06C stands out because it's customizable for our young riders. Think about it: the stem can be adjusted from 0 – 8 inches, allowing for a handle height range between 29 to 37 inches. As kids grow, this scooter can be tweaked to fit them just right. And let's not forget the robust build – it's sturdy enough to hold a weight of up to 132 pounds. So, kiddos between 6 and 12 can zoom around with confidence.
Three Speeds, Zero Guesswork
Young riders want to feel the wind in their hair, but safety is paramount. With the EV06C, they get a choice of three speed modes. Starting at a gentle 3 MPH, progressing to a moderate 6 MPH, and maxing out at an exhilarating 9.3 MPH. And for the tech-savvy kids out there, the LED display is a treat. Positioned conveniently on the thumb throttle, it showcases the current speed, the active speed mode, and that all-important battery level. No surprises, just continuous fun.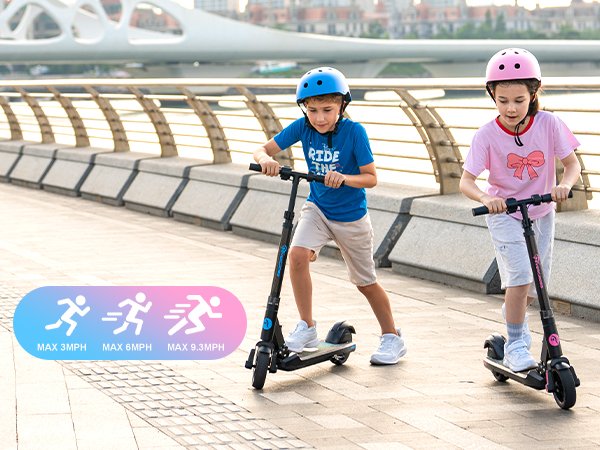 Light It Up and Ride in Style
Beyond functionality, there's the cool factor. With the EV06C, the fun begins the moment the light switch is flicked on. The footboard gleams with the illuminated EVERCROSS logo. But the real showstopper? Those LED strips on the stem. They don't just flash; they have a mesmerizing "breathing" effect. Besides adding a dash of style, these lights are practical, ensuring riders are visible during those dusk adventures or overcast days.
Braking: Where Safety Meets Innovation
Safety is a non-negotiable, especially when kids are involved. The EV06C's "Electronic Brake" system is designed to react promptly. So, when your child decides it's time to halt, the scooter is right there with them, ensuring a controlled and safe stop.
Portability: Kid-Tested
And now for the grand finale: how the EV06C makes life easier. Thanks to its intuitive design, kids can fold this scooter in a jiffy, without any adult supervision. Given its featherweight design at 22 pounds, they won't be breaking a sweat lugging it around. Imagine the convenience when they have to navigate stairs or squeeze it into a car's trunk.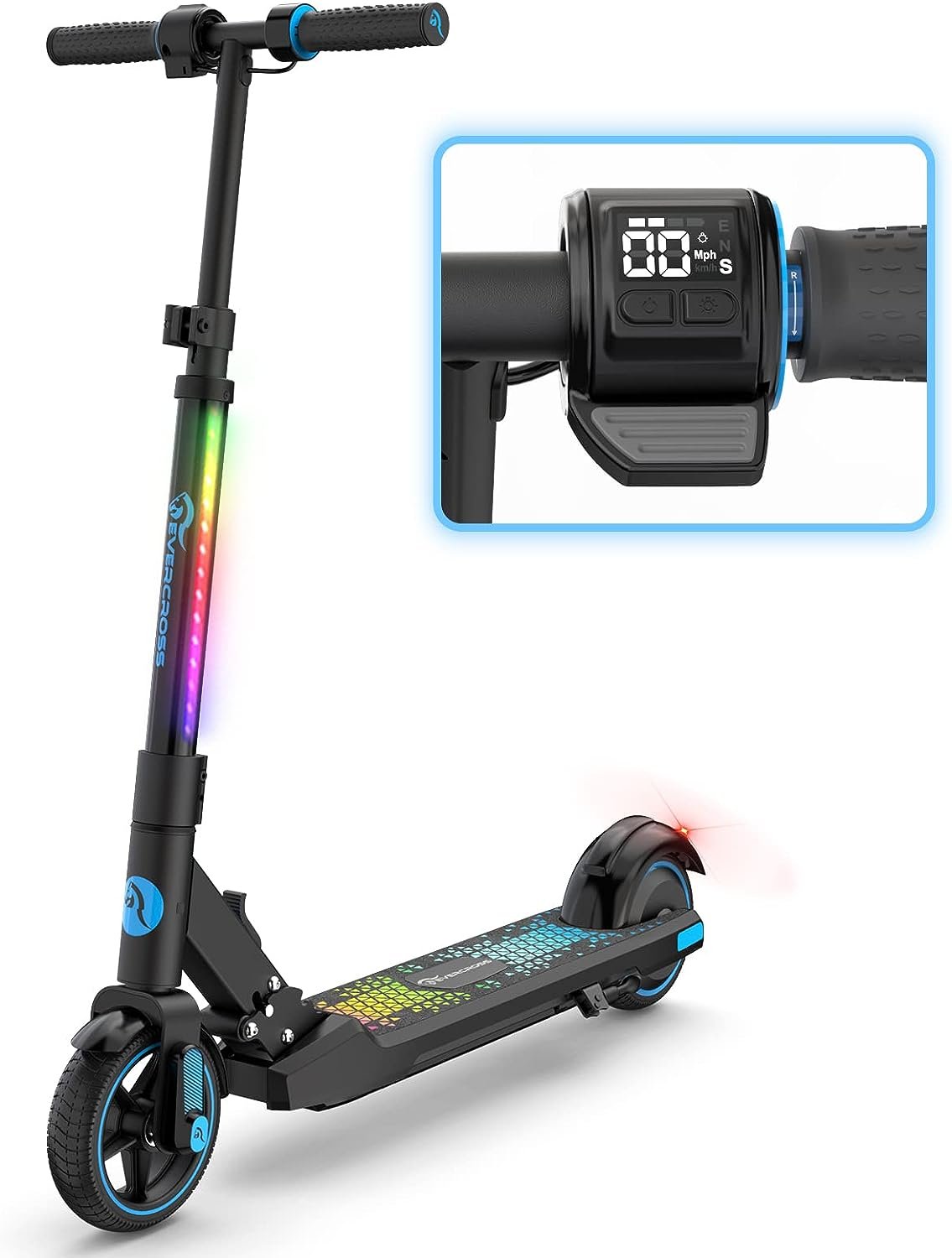 Powering Adventures: Battery and Charging Insights
Quick to Charge, Slow to Drain
Hey, let's face it—kids and waiting? They're like oil and water; they just don't mix. The EV06C gets this. That's why with just a 3-hour charge, this scooter is all set and raring to go. Think of all the things kids could do in those 3 hours: finish up some homework, grab a snack, or even sneak in a quick episode of their favorite show. By the time they're done, their trusty scooter is charged up and ready to hit the road!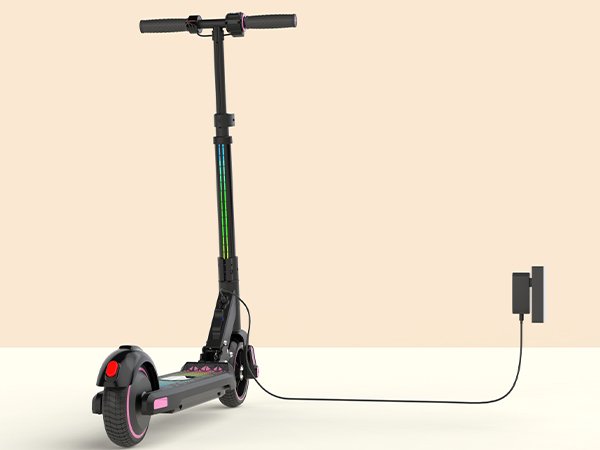 Miles and Miles of Fun
And once that green light indicates a full charge? Oh boy, the adventures that await! With a reach of up to 5 miles on a single charge, the EV06C isn't about those short spins around the block. It's for those extended explorations—the park, the nearby store, or even a relaxed evening ride to a friend's house. The range ensures kids can venture out, enjoy, and still have enough juice to get back home.
Keeping an Eye on the Power
One of the coolest features on this scooter is that LED display on the thumb throttle. Kids don't need to guess how much power they have left; a quick glance gives them all the info—current speed, speed mode, and, yup, the battery level. It's all about letting them focus on the ride and fun, while the EV06C handles the technical side of things.
Product Specifications
| Specifications | Details |
| --- | --- |
| Age Range | 6-12 years old |
| Adjustable Stem Height | 0-8 inches |
| Handle Height Range | 29-37 inches |
| Maximum Load Capacity | 132 lbs |
| Speed Modes | 3 MPH, 6 MPH, 9.3 MPH |
| Maximum Mileage | 5 miles |
| Weight | 22 lbs |
| Brake System | Electronic Brake |
| Folding System | One-step Folding |
| Lighting System | Colorful LED Lights |
Evercross EV06C Specs
Adjusting to Perfection: The EV06C's Customizable Features
Just Like a Tailored Suit
Imagine having a scooter that fits just right, much like a custom-made outfit. The EV06C isn't about that 'one size fits all' philosophy. It understands kids, and it's crafted to be their perfect match.
Finding the Sweet Spot with Handle Height
One of the coolest features? The adjustable grip height, ranging up to 8 inches. This means kids can tweak it until it feels just right for their height. No more awkward hunching or overstretching; it's about riding in comfort every time.
Adapting As They Grow
Childhood is all about growth spurts, and toys often get left behind. But the EV06C? It's on a mission to stay relevant. Thanks to its adaptability, it's not a fleeting joy but a long-term buddy. Today, tomorrow, and even a couple of years from now, it's ready to adjust and ride alongside.
Illuminating Safety: How the EV06C Shines Bright
A Night Rider's Dream
Nighttime scooting might sound daunting, but with the EV06C, it's like having a mini light show on wheels. The LED breathing light strips aren't just for the cool factor. They serve a purpose: ensuring riders are visible, not just to fellow riders but also to pedestrians and vehicles.
A Logo That's More Than Branding
The illuminated EVERCROSS LOGO? It's not just a brand shout-out. Positioned on the footboard, it's a beacon, alerting those nearby of the scooter's presence and adding an extra layer of safety.
Stop with Confidence
Braking isn't just about stopping—it's about how smoothly you can do it. The EV06C boasts an "Electronic Brake" system, meticulously designed to reduce jolts and ensure a seamless halt. It's about giving riders, and their parents, the confidence that every ride will be a safe one.
EVERCROSS EV06C – Pros and Cons
Pros:
Tailored design for kids aged 6-12.
Adjustable stem and handle height for a comfortable ride.
Three adjustable speed modes.
LED display for real-time information.
Stylish LED lighting system.
Electronic braking for added safety.
Foldable and portable design.
Ideal gift for special occasions.
Enhances outdoor exercise, play, and social interactions.
Cons:
Requires the scooter to be traveling at least 3 MPH before the motor engages.
EVERCROSS EV06C – FAQ's
Can my child ride this scooter without any prior experience?

Yes, the EV06C Electric Scooter is designed for beginners and can be easily ridden by children with little to no prior experience.

Is the scooter waterproof?

While the scooter can withstand light splashes and drizzles, it is not completely waterproof. It is recommended to avoid riding in heavy rain or submerging the scooter in water.

How long does the battery last?

The battery life varies depending on several factors, such as speed mode, weight load, and road conditions. On average, the battery can last up to 5 miles on a full charge.

Can adults ride this scooter?

The EV06C is specifically designed for children aged 6-12. It may not be suitable for adults due to its weight capacity and size.

Is the scooter suitable for off-road riding?

The EV06C is primarily designed for smooth pavement or flat surfaces. It is not recommended for off-road or rugged terrain.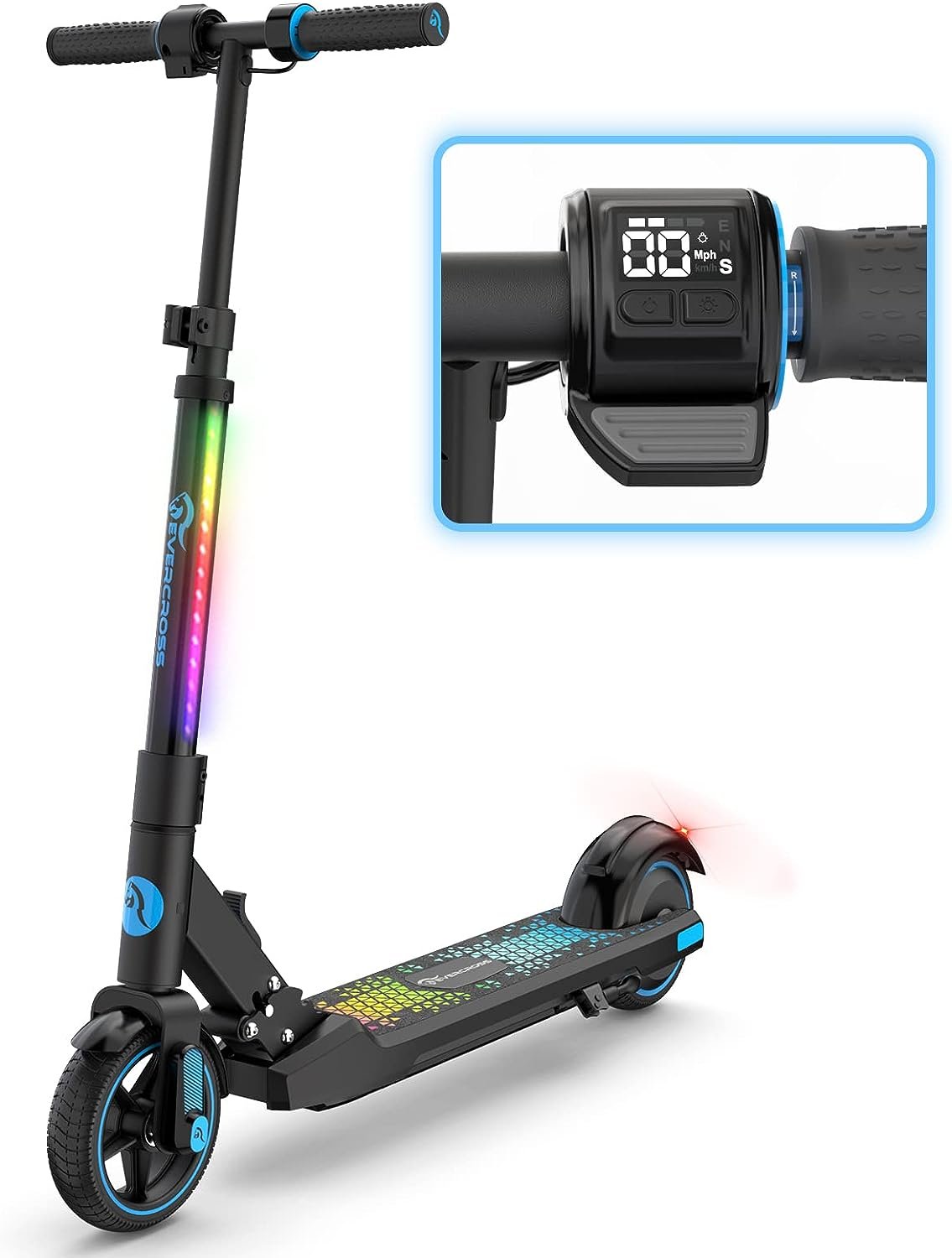 What Customers Are Saying
"I bought the EV06C scooter for my 8-year-old son, and he absolutely loves it! The adjustable height and speed modes make it perfect for him to ride as he grows. The LED lights are a cool addition, and the foldable design makes it easy to take with us on family outings. Highly recommend!" – Sarah T.
"My daughter received the EV06C scooter as a birthday gift, and it was a huge hit! The scooter is sturdy and well-made, providing us with peace of mind regarding her safety. The colorful lights and adjustable speed modes make it super fun for her to ride. Definitely worth every penny!" – Jason M.
EVERCROSS EV06C – Overall Value
The EVERCROSS EV06C Electric Scooter offers an exceptional value for parents and children alike. With its tailored design, impressive features, and emphasis on safety, it provides an exciting and reliable outdoor experience for kids. The convenience of the foldable design and the added fun of the LED lights make it a top choice in its category.
Tips and Tricks For Best Results
Before letting your child ride the scooter, ensure they wear appropriate safety gear, such as a helmet, knee pads, and elbow pads.
Familiarize yourself and your child with the scooter's manual to ensure proper usage and maintenance.
Regularly check the battery level and charge it as needed to avoid running out of power during rides.
Encourage your child to practice riding in a controlled environment before venturing into busy areas or streets.
Remind your child to be aware of their surroundings and follow traffic rules and regulations while riding.
EVERCROSS EV06C – Final Thoughts
Product Summary
The EVERCROSS EV06C Electric Scooter is a foldable and lightweight scooter specifically designed for children aged 6-12. Its adjustable height, multiple speed modes, LED display, and safety features make it an excellent choice for outdoor fun.
Final Recommendation
If you're seeking a high-quality electric scooter that offers comfort, safety, and excitement for children, the EVERCROSS EV06C Electric Scooter is an ideal option. Its tailored design, impressive features, and overall value make it a must-have for parents who want to provide their kids with an unforgettable outdoor experience. Invest in the EV06C Electric Scooter and watch your child ride with joy, confidence, and style.
Disclosure: As an Amazon Associate, I earn from qualifying purchases.