Hey there! Some links on this page are affiliate links which means that, if you choose to make a purchase, I may earn a small commission at no extra cost to you. I greatly appreciate your support!
Hey there, fellow riders! Today, I want to share my thoughts on the Turboant X7 Pro electric scooter, a fantastic option for urban commuters seeking a convenient and eco-friendly way to navigate the bustling city streets. As an enthusiastic rider and advisor, I'll delve into the scooter's design, performance, battery life, safety features, ride comfort, and overall value for money.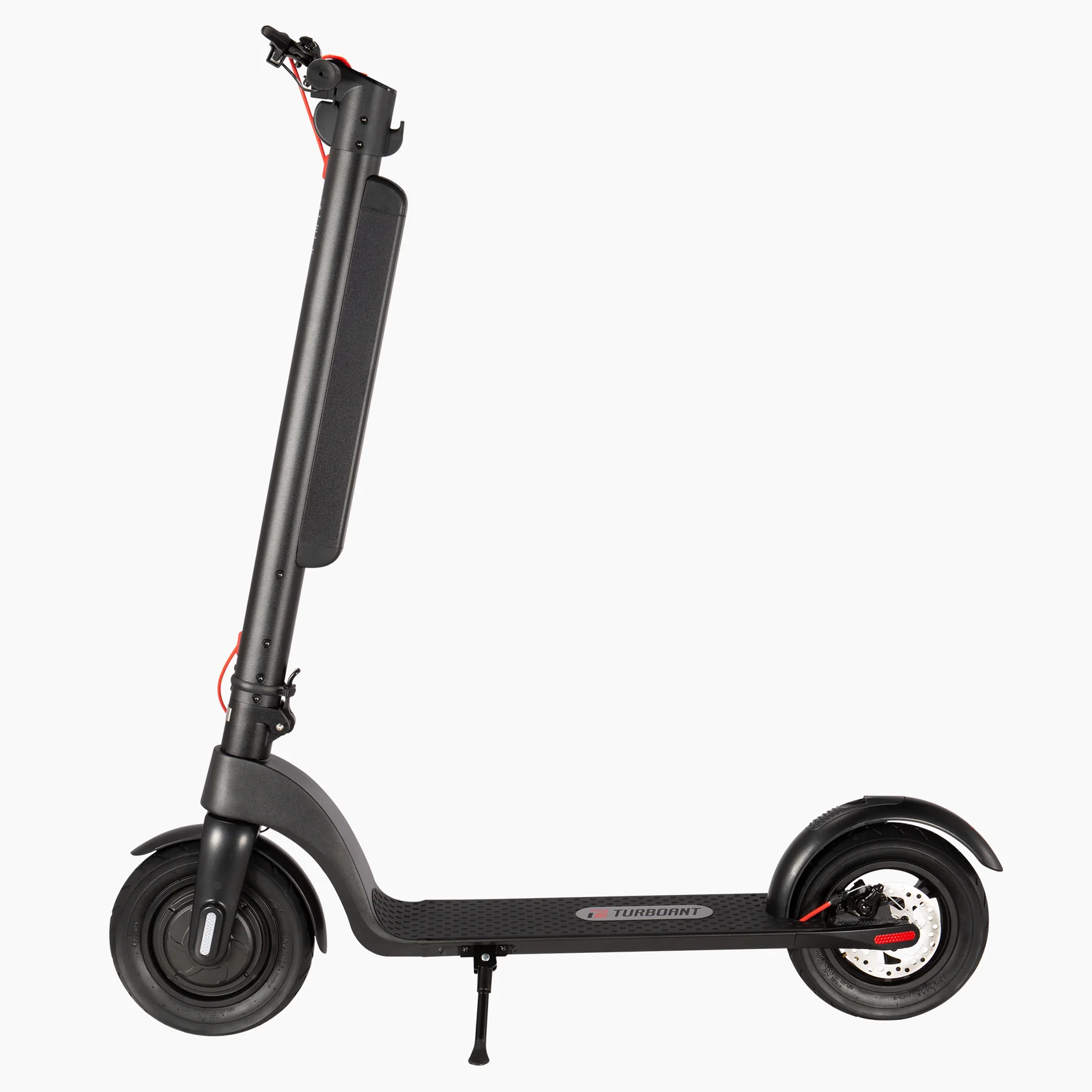 The Turboant X7 Pro is an all-around electric scooter that offers good distance coverage and speed for everyday use. With its sturdy tires, and reliable lights, it assures users a secure and smooth ride.
Turboant X7 Pro Design and Build Quality
The Turboant X7 Pro boasts a sleek and modern design that seamlessly blends aesthetics with functionality. Its sturdy build quality ensures durability, allowing you to tackle everyday adventures without worrying about wear and tear. The scooter's lightweight construction makes it easily portable, enabling you to carry it effortlessly when navigating crowded public transport or storing it in tight spaces.
Performance and Speed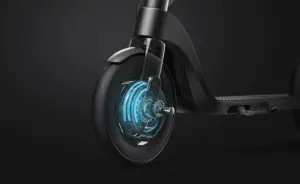 The TurboAnt X7 Pro is a versatile electric scooter that delivers impressive performance and speed. Powered by a 350W motor, the X7 Pro can reach a top speed of 20 mph in seconds, making it one of the most remarkable scooters in its class. It offers three different riding modes tailored for varying levels of experience: beginner mode with a top speed of 6 mph, eco mode at 10 mph, and sport mode that can reach the maximum speed of 20 mph. This allows riders to familiarize themselves with the scooter before gradually stepping up the pace. Additionally, the X7 Pro showcases quick acceleration and robust hill-climbing abilities, making it an excellent choice for commuters or anyone seeking an efficient and enjoyable mode of transportation. The scooter even features upgraded acceleration, going from 0 mph to 15 mph in just 7.5 seconds, demonstrating TurboAnt's commitment to enhancing their motor's performance
Battery Life and Range
The TurboAnt X7 Pro is an exceptional budget electric scooter that comes with a removable battery pack, a distinctive feature that greatly enhances its usability. The removable feature not only makes it incredibly convenient to charge but also allows for the option to swap out the battery for a new one, making it perfect for long weekend explorations. It's equipped with a high-capacity Lithium-Ion battery that has a total capacity of 360Wh and can deliver a range of up to 30 miles on a single charge. This robust battery charges in approximately 6 hours, enabling users to achieve a top speed of 20 mph. What's more, the scooter's design allows for an extended ride of up to 60 miles when the battery is swapped out
Turboant X7 Pro Safety Features
The TurboAnt X7 Pro electric scooter is designed with several safety features. It boasts an IPX4 water-resistance rating, which protects it against water splashes of all kinds, including low-pressure jets. This allows riders to commute safely, even in light showers. The scooter also features a triple braking system that ensures reliable stopping, even if one component fails. The scooter is equipped with a lighting profile that enhances visibility during both day and night. It also comes with 10-inch air tubes that provide shock absorption for smoother rides. Lastly, the scooter features a bright LED light that further enhances visibility in low-light conditions​.
Ride Comfort
Riding is a breeze, thanks to its ergonomic design and thoughtful features. The scooter's spacious deck and riding position offer ample room for a comfortable stance, minimizing fatigue during long rides. The suspension system, combined with shock absorption capabilities, smoothes out bumps and vibrations, resulting in a remarkably comfortable ride, regardless of the road conditions.
Features and Accessories
The Turboant X7 Pro comes packed with useful features and optional accessories to enhance your riding experience. The scooter's display panel and controls are intuitively designed, allowing for easy navigation and access to vital information. Some models offer app connectivity and GPS tracking, enabling you to track your routes, monitor battery life, and even adjust riding settings for a personalized experience. Additionally, you can explore a range of accessories to further customize your scooter to suit your preferences and needs.
Price and Value for the Money
Considering the Turboant X7 Pro's impressive features and performance, its price tag represents excellent value for money. While it may not be the most budget-friendly option on the market, the scooter justifies its cost with its high-quality build, reliable performance, and an array of safety features. Investing in this scooter means investing in a reliable and enjoyable commuting companion that will serve you well for years to come.
How does the Turboant X7 Pro Compare?
In a market filled with various electric scooters, it's essential to consider how the Turboant X7 Pro stacks up against its competition. Let's take a closer look at how this electric scooter compares to some popular alternatives in terms of design, performance, features, and price.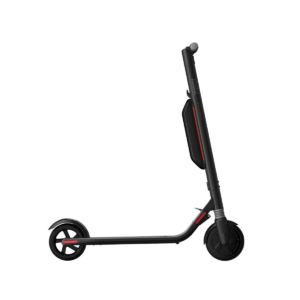 The Segway Ninebot ES4 is a popular electric scooter option, designed with the user in mind. This scooter is praised for its easy handling, making it a great choice for riders looking for simplicity and convenience.
The Segway Ninebot ES4 is a notable competitor. In terms of design, both scooters offer sleek and modern aesthetics. However, the Turboant X7 Pro's build quality stands out with its durable construction and lightweight frame.
In terms of performance, the Turboant and the Ninebot are closely matched. Both offer similar top speeds and acceleration capabilities, making them suitable for urban commuting. However, the Turboant X7 Pro's climbing abilities are often considered superior, allowing riders to tackle steeper inclines with ease.
When it comes to battery life and range, the Turboant X7 Pro offers a competitive edge. It typically provides a longer range on a single charge compared to the Ninebot ES4. Additionally, the Turboant X7 Pro's regenerative braking system enhances energy efficiency, resulting in a more extended riding experience.
In terms of safety features, both scooters offer reliable braking systems and lighting options. However, the Turboant X7 Pro's suspension system provides better shock absorption, resulting in a smoother and more comfortable ride on uneven surfaces.
The Turboant X7 Pro and the Ninebot ES4 offer a range of features and accessories. While both scooters provide intuitive controls and informative displays, the Turboant X7 Pro offers additional features like app connectivity and GPS tracking in select models, providing enhanced customization and connectivity options.
In terms of pricing, the Turboant X7 Pro generally falls within a similar range as the Ninebot ES4. Both scooters offer good value for money considering their features and performance, making the choice a matter of personal preference and specific needs.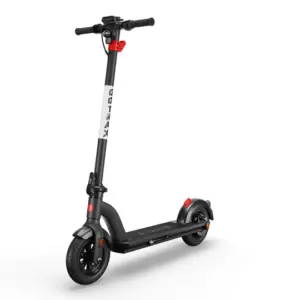 The GoTrax G4 is a sturdy scooter that balances speed and range well, making it ideal for both short trips and longer commutes. With its large tires and lighting, it ensures a smooth, safe journey.
Both the Gotrax G4 and the Turboant X7 Pro are respected electric scooters in the market, and they each come with a unique set of features that suit different user preferences and needs.
The Gotrax G4, known for its robust built and sturdy design, provides a top speed of 20 mph and a maximum range of 25 miles, which makes it an excellent choice for commuters who cover long distances. The G4 comes with a 10-inch air-filled tire that ensures a comfortable ride even on uneven terrains. Additionally, it has a remarkable dual braking system, a waterproof rating of IP54, and its cruise control feature is also a plus for riders who love long, leisurely rides. Furthermore, it has built-in safety measures such as a headlight and taillight for night visibility.
On the other hand, the Turboant X7 Pro stands out with its detachable battery design, which allows for convenient charging. It has a slightly lower top speed of 20 mph and offers a longer range of 30 miles on a single charge, making it ideal for longer commutes. Its 10-inch pneumatic tires provide a smooth ride, and it also has a dual braking system. Unlike the Gotrax G4, the X7 Pro has a slightly lower waterproof rating of IPX4, but it compensates with its innovative battery design and slightly larger weight capacity of 275 lbs.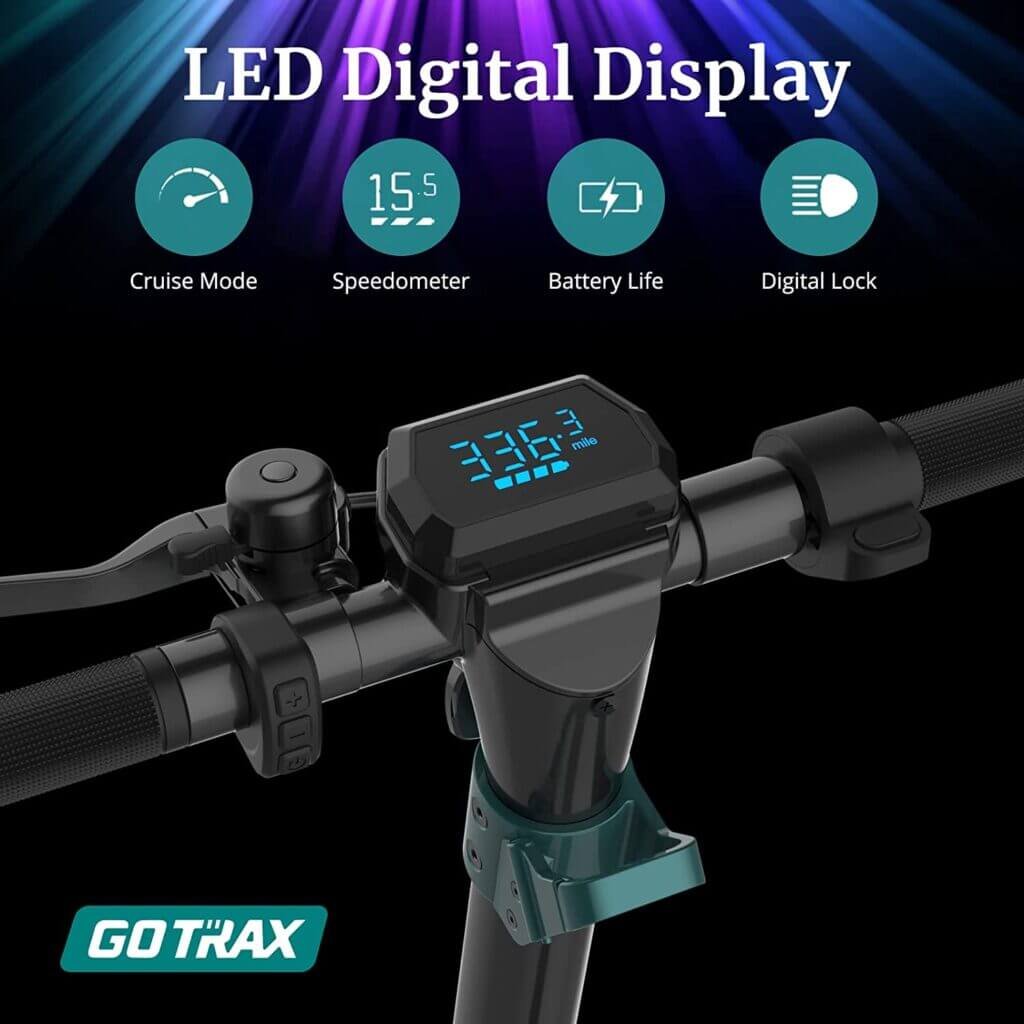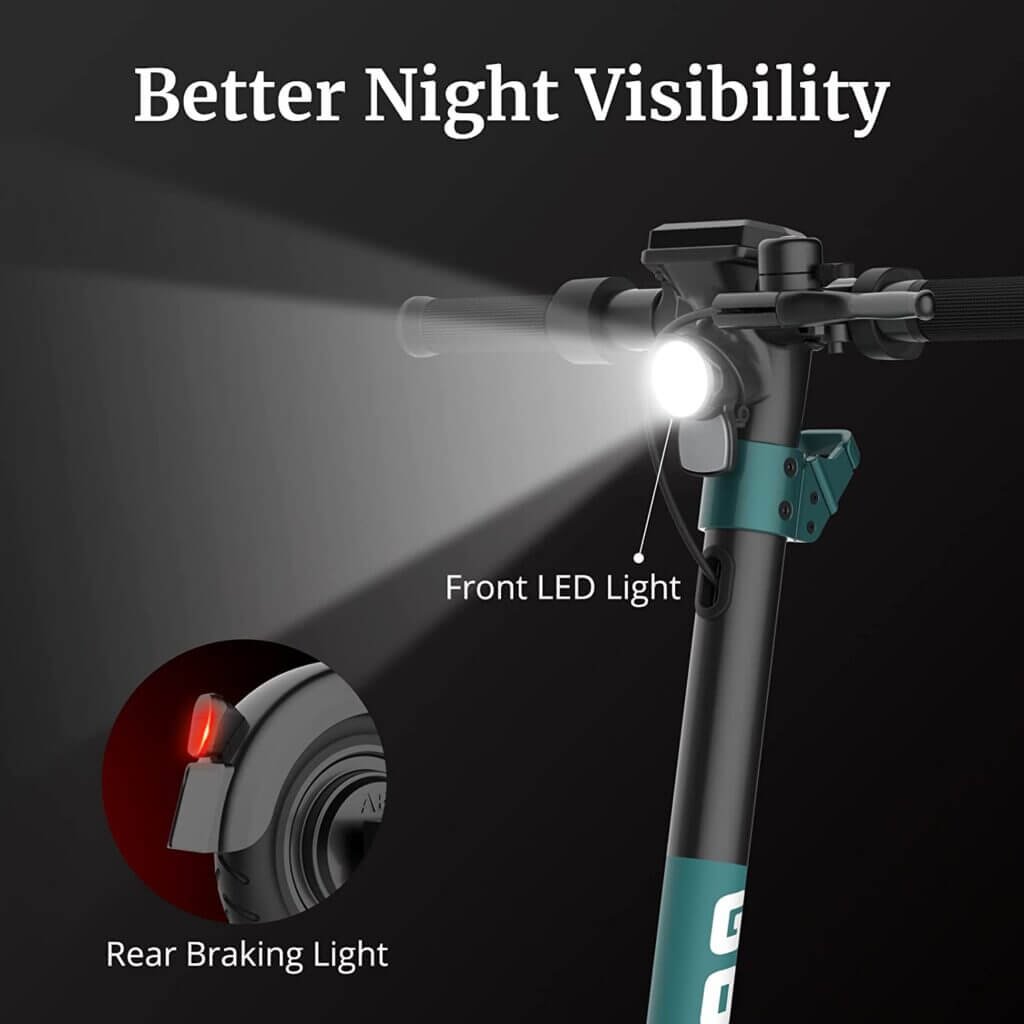 Comparison Table
| Feature | TurboAnt X7 Pro | Segway Ninebot ES4 | Gotrax G4 |
| --- | --- | --- | --- |
| Max Speed | 20 mph | 18.6 mph | 20 mph |
| Range | Up to 30 miles | Up to 28 miles | Up to 25 miles |
| Motor Power | 350W | 800W | 500W |
| Battery | Detachable 10.0 Ah | Internal and External, total 374 Wh | 10.4 Ah |
| Weight | 33 lbs | 30.9 lbs | 37 lbs |
| Tires | 10" Pneumatic | 8"(F)/7.5"(R) Solid | 10" Pneumatic |
| Max Load | 275 lbs | 220 lbs | 220 lbs |
| Charging Time | 6 hours | 7 hours | 5 hours |
| Brake System | Electronic and disc brakes | Electrical and mechanical brake | Electronic and disc brakes |
| App Control | Yes | Yes | No |
| Lights | Headlight, taillight | Front and rear LED lights | Headlight, taillight |
| Folding Design | Yes | Yes | Yes |
Conclusion
In conclusion, this electric scooter stands out as a reliable and high-performing option for urban commuters. Its sleek design, sturdy build quality, and lightweight construction make it a stylish and durable choice. The scooter's impressive performance, battery life, safety features, and ride comfort ensure an enjoyable riding experience on various terrains and road conditions. With a range of useful features and optional accessories, the Turboant X7 Pro offers customization options to suit individual preferences. While it may not be the most affordable option, the scooter's overall value for money is commendable, making it a worthwhile investment for those seeking a dependable and eco-friendly mode of transportation.
FAQs (Frequently Asked Questions)
Is the Turboant X7 Pro suitable for beginners?
Absolutely! With its intuitive controls and stable riding experience. It's a great choice for riders of all skill levels.
What is the maximum weight capacity?
The Turboant X7 Pro can typically support a maximum weight capacity of around 275 pounds (125 kilograms), making it suitable for a wide range of riders.
Can the Turboant X7 Pro handle rough terrain?
While it performs well on urban roads and smoother surfaces, this scooter may experience limitations on extremely rough or uneven terrain. It's primarily designed for urban commuting.
What is the warranty coverage?
The warranty coverage varies, but it typically includes a warranty period of one to two years, covering manufacturing defects and certain components.
Does the Turboant X7 Pro come with a folding mechanism for easy storage?
Yes, it features a folding mechanism, making it compact and easy to store in tight spaces or carry on public transportation.