Hey there! Some links on this page are affiliate links which means that, if you choose to make a purchase, I may earn a small commission at no extra cost to you. I greatly appreciate your support!
Have you seen an electric scooter with seat? They are taking the world by storm, turning heads as a comfy, green, and fun way to get around. With cities growing bigger by the day and folks hunting for ways to beat the traffic, these cool scooters are stepping up. Whether you're after a relaxed spin or an easy way to get from A to B, a seated electric scooter is a game changer. But, let's be real, choosing to buy one isn't a small choice. They can cost a pretty penny and with so many options out there, it's tough to know which one fits the bill. No worries though, our guide will clear up the confusion and help you track down the ideal seated electric scooter for you.
Key Features to Look for
Motor Power and Performance
Power is king when it comes to scooters. From climbing hills to ensuring smooth acceleration, a robust motor is a must. The average electric scooter motor ranges from 250W to 500W, but more powerful models offer 2000W and beyond.
Battery Capacity and Range
Your scooter is only as good as its battery. A solid battery should give you ample range to get where you're going without the fear of running out of juice. Look for scooters offering at least 15-20 miles on a single charge.
Weight Capacity and Size
Whether you're a heavyweight champ or a featherweight contender, your scooter needs to accommodate you comfortably. Also, consider the scooter's size for both riding and storage purposes.
Suspension Systems
There are typically two types of suspension systems found in electric scooters:
Spring Suspension: This type of suspension utilizes springs to absorb shocks and vibrations. It can be further categorized into front suspension, rear suspension, or dual suspension (both front and rear). Spring suspension provides a smoother ride and better shock absorption.
Air Suspension: Air suspension employs air-filled chambers or cartridges to absorb shocks. It offers adjustable suspension settings to cater to different rider preferences and terrain conditions. Air suspension is generally found on higher-end electric scooters
No Suspension: Some electric scooters offer no suspension at all.
When it comes to safety, being seen is just as important as seeing. Your electric scooter with a seat should have effective front and rear lights, and potentially reflective elements too.
A quick and reliable braking system is also a must-have. The quicker your scooter can stop, the safer you'll be, especially in urban environments with busy traffic.
Of course, you will also want to look for horns, mirrors and reflective elements. These additions help make you more noticeable on the road and provide better awareness of your surroundings.
Top 4 Electric Scooters with Seat
GoTRAX Flex Electric Scooter with Seat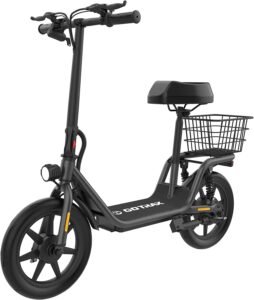 The GOTRAX Flex Electric Scooter with Seat is a fun ride that balances comfort and performance pretty well. Its seats are a big plus, making long rides easier on the back while the scooter's power is good enough to handle most urban commutes.
The Gotrax Flex is a solid choice if you're looking for an electric scooter with a seat. Its little 350W motor can get you zipping around at up to 15.5 mph, which is plenty for getting around town. Even though it's light, it can hold up to 220 lbs no problem. The battery can take you around 15.5 miles before you need to plug it in again, so no need to worry about charging it all the time. Plus, with its double brakes and LED lights, it makes sure you're safe, even if you're riding when it's getting dark out. It's a pretty reliable, handy, and fun way to get around.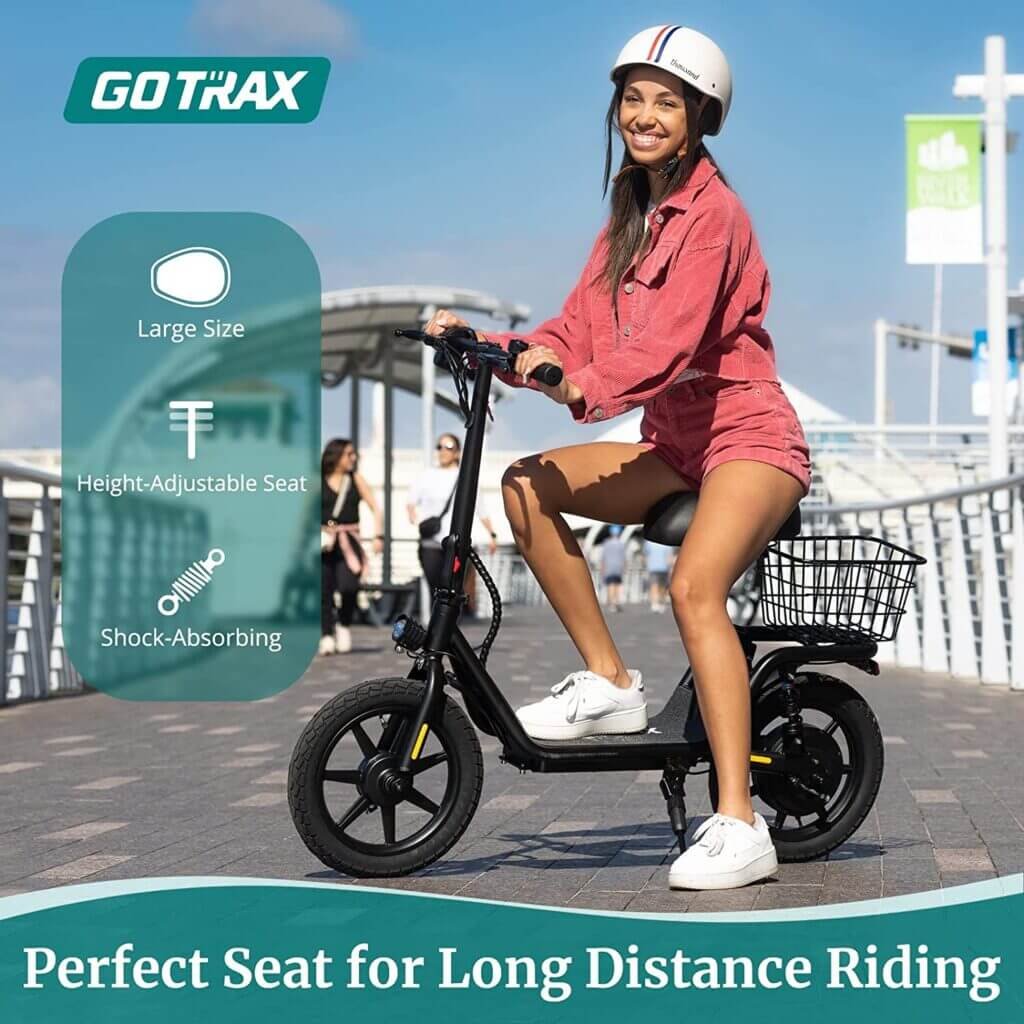 GoTRAX Flex Pros & Cons
Speedy and strong: With a 350W motor and a top speed of 15.5 mph, it's quite a nimble ride.
Carries a good weight: It's light but can handle up to 220 lbs, which means it can carry most folks with ease.
Good battery life: The battery takes you up to 15.5 miles before needing a recharge, so it's pretty good for exploring around town.
Safety features: It comes with double brakes and LED lights, which are great for staying safe, especially if you're riding at night.
Top speed: While 15.5 mph is good for most situations, some might find it a bit slow if they're in a real rush.
Seat comfort: The seat is a great feature, but the comfort could vary depending on your personal preference.
Weight limit: While the 220 lb weight limit is sufficient for many, heavier riders might need to look for another option.
Battery range: 15.5 miles is fine for short trips, but for longer rides, you might need to plan for charging stops.
Hiboy S2 Pro Electric Scooter with Seat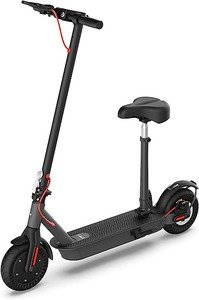 The Hiboy S2 Pro Electric Scooter with Seat delivers a solid, smooth ride for any scooter enthusiast. It's comfy thanks to its seat, while its performance is pretty impressive, making it a reliable choice for your daily commuting or leisurely rides.
The Hiboy S2 Pro really stands out because of its super long battery life and comfort. You can zip around for up to 25 miles on one charge, which is great for long rides or just not worrying about finding a plug all the time. It's also got a comfy seat and a cool suspension system that smooths out those rough city roads, making your ride a lot more enjoyable. Plus, the scooter has a dual braking system that's super handy for those quick stops when the city traffic gets busy. And if you're a night owl, it has bright headlights to help you safely navigate when it's dark out. All in all, it's a pretty reliable and user-friendly ride.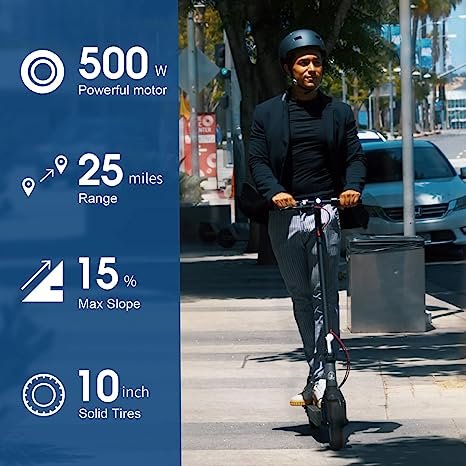 HiBoy S2 Pro Pros & Cons
Long battery life: You can go up to 25 miles without having to recharge, which is pretty awesome for long rides.
Comfortable: The seat and suspension system help smooth out bumpy roads, making your ride a lot more comfortable.
Safety features: The dual braking system is great for quick stops in city traffic, and the bright headlights make sure you can see where you're going at night.
Weight: This scooter might be a bit heavier than others because of the high-capacity battery and extra features, so if you're looking for a super light option, this might not be it.
Speed: While it's got good power, some folks might want a scooter that can go a bit faster.
Cost: With all these cool features, the Hiboy S2 Pro might be a bit pricier than other scooters on the market. If you're on a budget, you might want to consider other options.
Charging time: The longer battery life is great, but it might also mean that the scooter takes a bit longer to fully charge.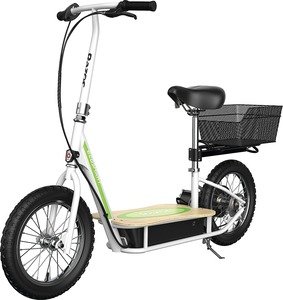 The Razor EcoSmart Metro Electric Scooter with Seat is a neat option if you're into a more traditional, bicycle-like design. It's pretty reliable for everyday use, and its seat adds a touch of comfort that makes riding it a joy.
The Razor EcoSmart is a pretty cool scooter with its unique, stylish design. It's got a pretty powerful 500W motor that can get you going up to 18 mph, which is super fun for zipping around. One of the neatest things about it is its wide bamboo deck that looks awesome and gives you plenty of space to stand. It's also got big tires and a rear disc brake, which means it's easy to handle, even on bumpy roads. So, if you're looking for a scooter that's as fun to ride as it is to look at, the Razor EcoSmart might be the one for you.
Razor Ecosmart Metro Pros & Cons
Unique design: The wide bamboo deck not only looks great but also provides plenty of room to stand.
Good speed: The 500W motor gets you up to 18 mph, which is fun for quick trips around town.
Stability and safety: The large tires and rear disc brake make for a stable, safe ride, even on uneven roads.
Seat for comfort: A great addition for those who prefer a seated ride, adding an extra level of comfort.
Bulkiness: With its wide deck and large tires, it might be a bit bulky to handle or store compared to more compact scooters.
Lack of advanced features: While it has the basics covered, it doesn't come with some of the high-tech features like app connectivity that you find on some other scooters.
Battery life: Depending on how you use it, you might find that you need to recharge the battery more often than with some other scooters.
Charging time: While it depends on how drained the battery is, charging might take a bit longer than you'd like.
Evercross H5 Electric Scooter with Seat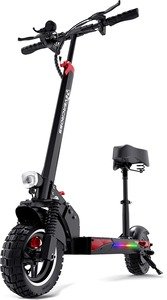 The EverCross H5 Electric Scooter with Seat is a sturdy, versatile choice for both city cruising and off-road adventures. With its seat providing extra comfort and its performance meeting most urban or countryside demands, it's a reliable scooter that can handle a variety of terrains.
If you're the adventurous type, the EverCross H5 might be just your speed. It's built for off-roading with a super strong 800W motor that can handle just about any terrain you throw at it. Its big, rugged tires help you stay stable even on the bumpiest of trails. Plus, it's got a huge 40-mile range, so you don't have to worry about your fun ending early because the battery died. And when it comes to safety, it's got you covered with bright headlights for nighttime riding and a loud horn to make sure everyone knows you're coming. All in all, it's a tough and capable scooter for those who like to take the path less traveled.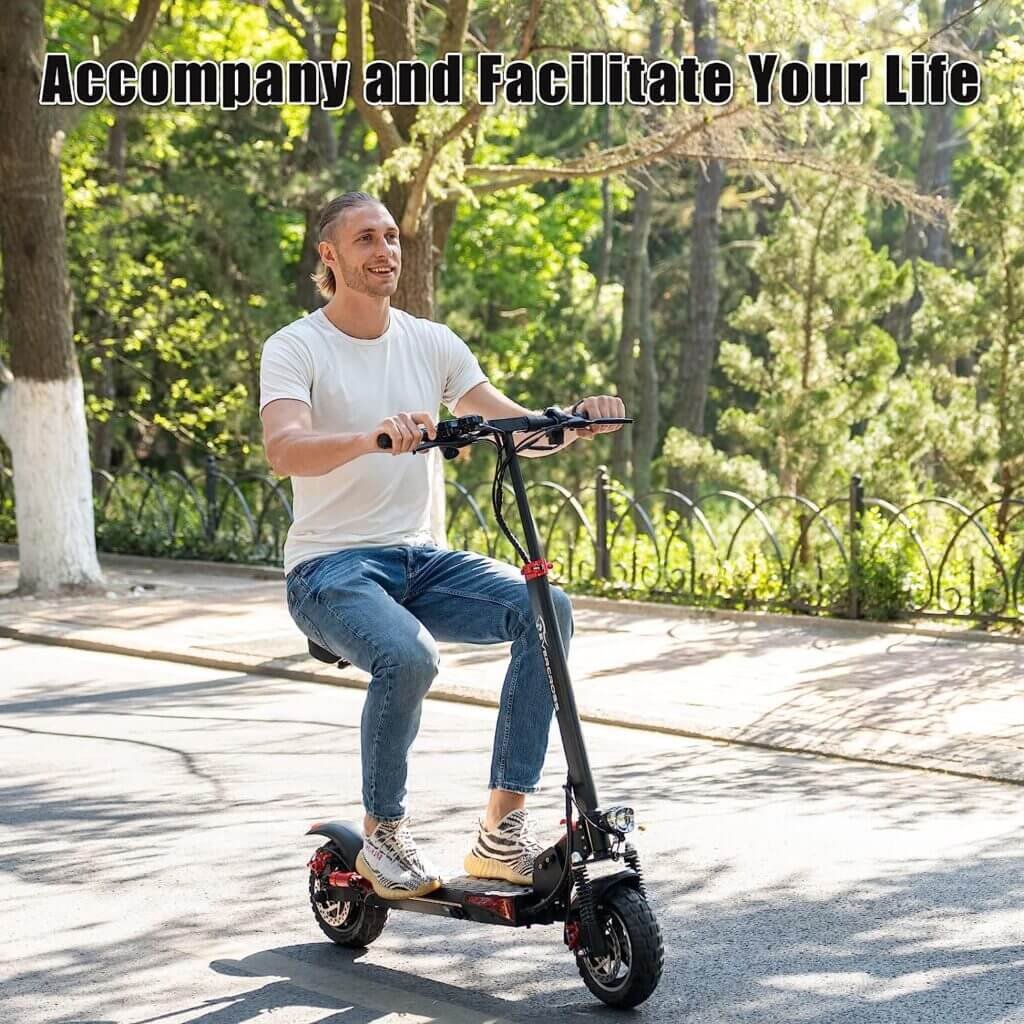 Feature Comparison Table
| Features | Gotrax Flex | Hiboy S2 Pro | Razor Ecosmart | Evercross H5 |
| --- | --- | --- | --- | --- |
| Motor Power | 350W | 500W | 500W | 800W |
| Top Speed | 15.5 mph | 19 mph | 17.4 mph | 28 mph |
| Range | 15.5 miles | 25 miles | 11.8 miles | 25 miles |
| Weight Capacity | 220 lbs | 220 lbs | 218 lbs | 330 lbs |
| Suspension System | Single Spring | Rear Wheel | No Suspension | Dual Hydraulic |
| Braking System | Double Braking | Dual Braking | Disc | Dual Braking |
| Lights | LED | Headlights | None | Headlight + Tail light |
| Additional Features | – | Integrated Mobile App, Option to Add a Seat | Wide Bamboo Deck | Off-Road Design, Detachable Seat |
Final Thoughts
At the end of the day, owning an electric scooter with seat can revolutionize your daily commute or leisurely rides. It offers a unique blend of comfort, convenience, and fun that few other modes of transport can match. Whether you're an urban dweller seeking a hassle-free commute or a suburbanite looking for a fun way to get around, an electric scooter with seat could be just what you're looking for.
Remember, always prioritize safety, consider your individual needs, and don't be afraid to compare different models. In no time, you'll be enjoying the fresh air and the freedom of scooting around on your very own electric scooter with seat!
Frequently Asked Questions
Can an electric scooter with seat climb hills?
Yes, but it largely depends on the power of the motor. Scooters with higher wattage are generally better at tackling steep inclines. Some models like the Evercross H5, with its robust 800W motor, handle hills exceptionally well.
How long does the battery last on an electric scooter with seat?
This varies from model to model. On average, you can expect around 15-20 miles on a full charge. High-end models like the Hiboy S2 Pro offer a range of up to 25 miles.
Is it safe to ride an electric scooter with seat in the rain?
It's not recommended. While some scooters have water-resistant features, prolonged exposure to water can damage the battery and electrical components.
How fast can an electric scooter with seat go?
Typically, electric scooters with seats can reach speeds between 15 to 20 mph. However, some powerful models like the Razor Ecosmart can hit up to 18 mph.
Do electric scooters with seats require a lot of maintenance?
Generally, electric scooters require minimal maintenance. Regular checks and minor adjustments, like brake tightening and tire inflation, can go