Getting to Know the Evercross H7
You've probably heard of electric scooters. They're buzzing on every street, and everyone seems to have one. But have you heard of the Evercross H7? This scooter is making waves, and for some good reasons.
Evercross H7 Electric Scooter: More than Just a Ride
Unlike some scooters that are simply a way to get from point A to point B, the Evercross H7 Electric Scooter offers a blend of power, style, and innovative features. I recently took a closer look, and let's just say, it's more than meets the eye.
Diving Deeper with the Evercross H7 Review
In the vast world of electric scooters, it's easy to get lost. But our Evercross H7 Review is here to guide you. From its robust design to its unique app integration, there's a lot to unpack. So, if you've ever been curious about the Evercross H7 Scooter, you're in for a treat.
A Closer Look at the Evercross H7's Performance

Unpacking the Power: What Makes the Evercross H7 Roar?
When we think of scooters, we often imagine a nifty little vehicle ideal for short commutes. But with the Evercross H7, it's a whole different ball game. At its core is an 800W motor, which, in layman's terms, is like the heart of a lion in the body of a housecat. This power not only gives the Evercross H7 Scooter its zest but also its stamina, especially when those daunting hills come into view.
The Evercross H7 Electric Scooter's Stamina
Imagine embarking on a lengthy adventure around town. With some scooters, you'd need to strategize pit stops to recharge. But with the Evercross H7 Electric Scooter's impressive 48V 15Ah battery, it claims a range of up to 28 miles on a single charge. This is akin to navigating an entire marathon without breaking a sweat or, in this case, without hunting down a charging station.
Evercross H7 Review: All About Terrain Mastery
Scooters and rugged terrains are often not the best of friends. But with the Evercross H7, it's a match made in heaven. The 10-inch solid tires are not just aesthetic enhancers; they play a pivotal role in ensuring stability and smoothness. Moreover, this scooter's capability to tackle slopes up to 15-20 degrees isn't just a spec on paper. It translates to real-world confidence when you're faced with an uphill task, quite literally.
Diving into the Digital World of Evercross H7
The "EVERCROSS PRO" App
So, we've talked about the raw power of the Evercross H7, but what about its tech-savvy side? When you pair your Evercross H7 Electric Scooter with the "EVERCROSS PRO" app, you're not just getting a ride; you're getting a smart ride. This app acts like the command center for your scooter, accessible right from your smartphone.
Ride Metrics at Your Fingertips
With the Evercross H7 Scooter and its digital companion, you're never in the dark about your ride's details. Curious about how fast you're going? Check the app. Wondering how much distance you've covered on your latest adventure? The app has your back. From your speed, the mode you're in (like speed limit, standard, or sport), to even the battery's current status—every piece of data is neatly presented for you.
Safety and Control: Beyond Just Riding
Here's a feature that feels like it's straight out of a sci-fi movie: Remote locking and unlocking. If you've stopped by a cafe and need to keep your Evercross H7 safe, simply use the app to lock it. And when you're ready to zip away, unlock it with a tap. But the futuristic vibes don't stop there. Fancy a consistent pace during your rides without constantly adjusting the throttle? The cruise control function has you covered. Set a speed, engage cruise control, and enjoy a consistent, smooth ride.
Riding in Style and Comfort with the Evercross H7
Adaptable Seating for Every Mood
Alright, let's talk versatility. Ever had those days where you just want to sit back, relax, and enjoy the view? The Evercross H7 Electric Scooter has got your back – or rather, your bottom! It comes equipped with a detachable seat, crafted for those moments when you just want to take things easy. But if you're in the mood to feel the wind more directly, removing the seat is a breeze, giving you a traditional stand-up scooter experience. See other Scooters with a seat here.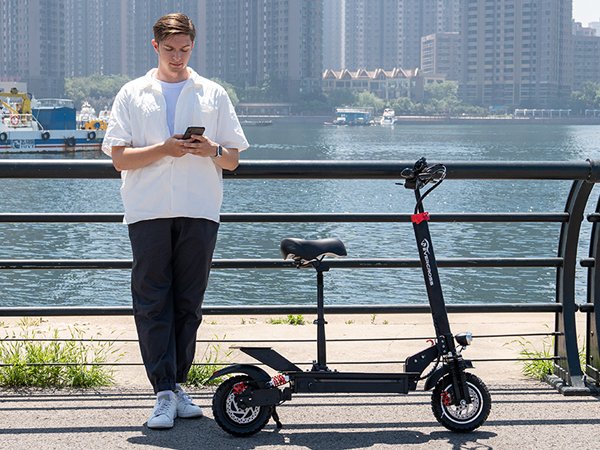 Tackling Terrains with Ease
Diving deeper into our Evercross H7 Review, we were particularly impressed by the scooter's commitment to ensuring every ride feels like gliding on air. Evercross wasn't kidding when they emphasized the H7's shock-absorbing capabilities. Those unpredictable bumps and undulations? With its multi-layered shock absorption system, the H7 takes them in stride. The front section is particularly noteworthy, equipped with a quartet of shock-absorbing springs. This means the harshest of roads become surprisingly gentle, ensuring riders can maintain their grace even on the most challenging terrains. Other Off-Rood Scooters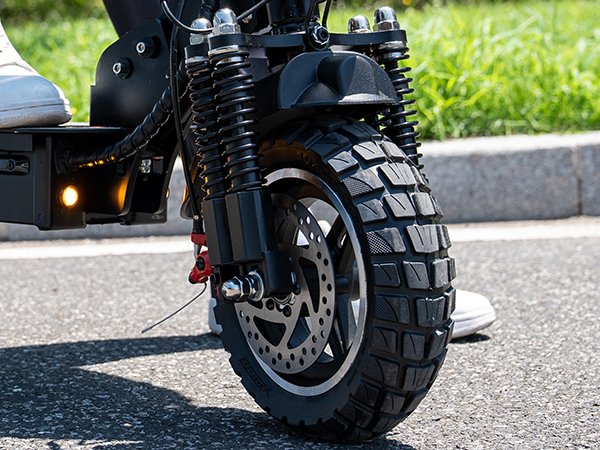 Shine Bright, Ride Safe
Beyond performance, the Evercross H7 Scooter understands the importance of visibility. Riding in dim light or at night can be daunting, but the H7's robust LED headlight system ensures the road ahead is always clear. Complementing this is a series of colorful LED strips, which not only add a touch of style but also enhance visibility to other road users. The scooter's LED digital display, crisp and clear, offers riders instant access to vital data like current speed, mode selection, and more, ensuring they're always informed, even when the sun isn't up.
What It's Used For
Commuting to Work
The H7 scooter is an excellent choice for commuting to work. Its powerful motor allows you to navigate through traffic with ease, while its long-range capability means you won't have to worry about running out of battery during your commute. The scooter's compact and foldable design also makes it convenient to store under your desk or in the trunk of your car.
Urban Exploration
If you love exploring your city or neighborhood, the H7 scooter is the perfect companion. Its off-road capabilities make it suitable for navigating different terrains, and its high top speed allows you to cover more ground. Whether you're visiting local attractions, running errands, or simply enjoying a leisurely ride, the H7 scooter provides a fun and efficient mode of transportation.
Outdoor Adventures
For those who seek adrenaline-pumping adventures, the H7 scooter is designed to handle off-road trails and rough terrain. With its durable construction, off-road tires, and multiple shock-absorbing systems, the scooter can withstand the challenges of outdoor excursions. Whether you're exploring nature trails or taking on off-road tracks, the H7 scooter ensures a thrilling and enjoyable ride.
Joyrides and Recreation
The H7 scooter offers an exhilarating and enjoyable riding experience that can be used for pure joyrides and recreational purposes. With its detachable seat design, you can choose between sitting and standing, allowing you to customize your ride based on your preferences. Experience the freedom and exhilaration of accelerating on an electric scooter while enjoying the scenery around you.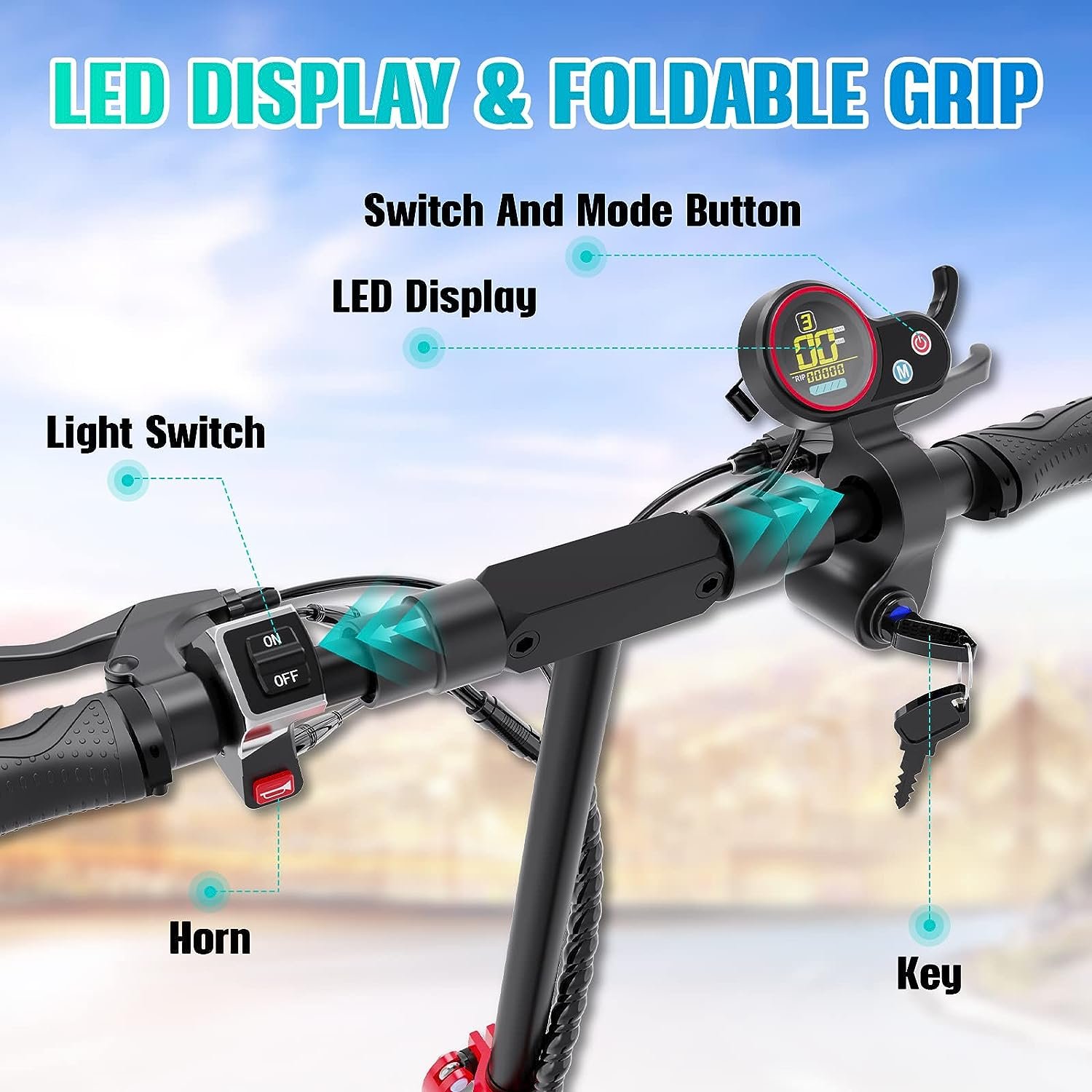 Product Specifications
| Specification | Details |
| --- | --- |
| Motor | 800W |
| Battery | 48V 15Ah |
| Top Speed | Up to 28 MPH |
| Maximum Riding Range | Up to 28 miles |
| Tire Size | 10-inch (solid, off-road) |
| Brake Type | Front & Rear Disc Brake |
| Shock Absorption | Multiple systems including front dual springs |
| | and shock-absorbing seats |
| Lighting System | LED headlights and colorful LED strips |
| Display | LED digital display with various data indicators |
| App | "EVERCROSS PRO" app with Bluetooth connectivity |
Evercross H7 Specs
Who Needs This
The EVERCROSS App-Enabled Electric Scooter is suitable for a wide range of individuals who are looking for a convenient and efficient mode of transportation. Whether you're a commuter, an urban explorer, an outdoor enthusiast, or someone who simply enjoys recreational rides, this scooter has something to offer.
Commuters will appreciate the scooter's speed, range, and compact design. Urban explorers will find the scooter's off-road capabilities and agility perfect for navigating city streets and exploring local attractions. Outdoor enthusiasts will benefit from its ruggedness and ability to handle rough terrains. Recreation seekers will enjoy the thrill and freedom of riding an electric scooter.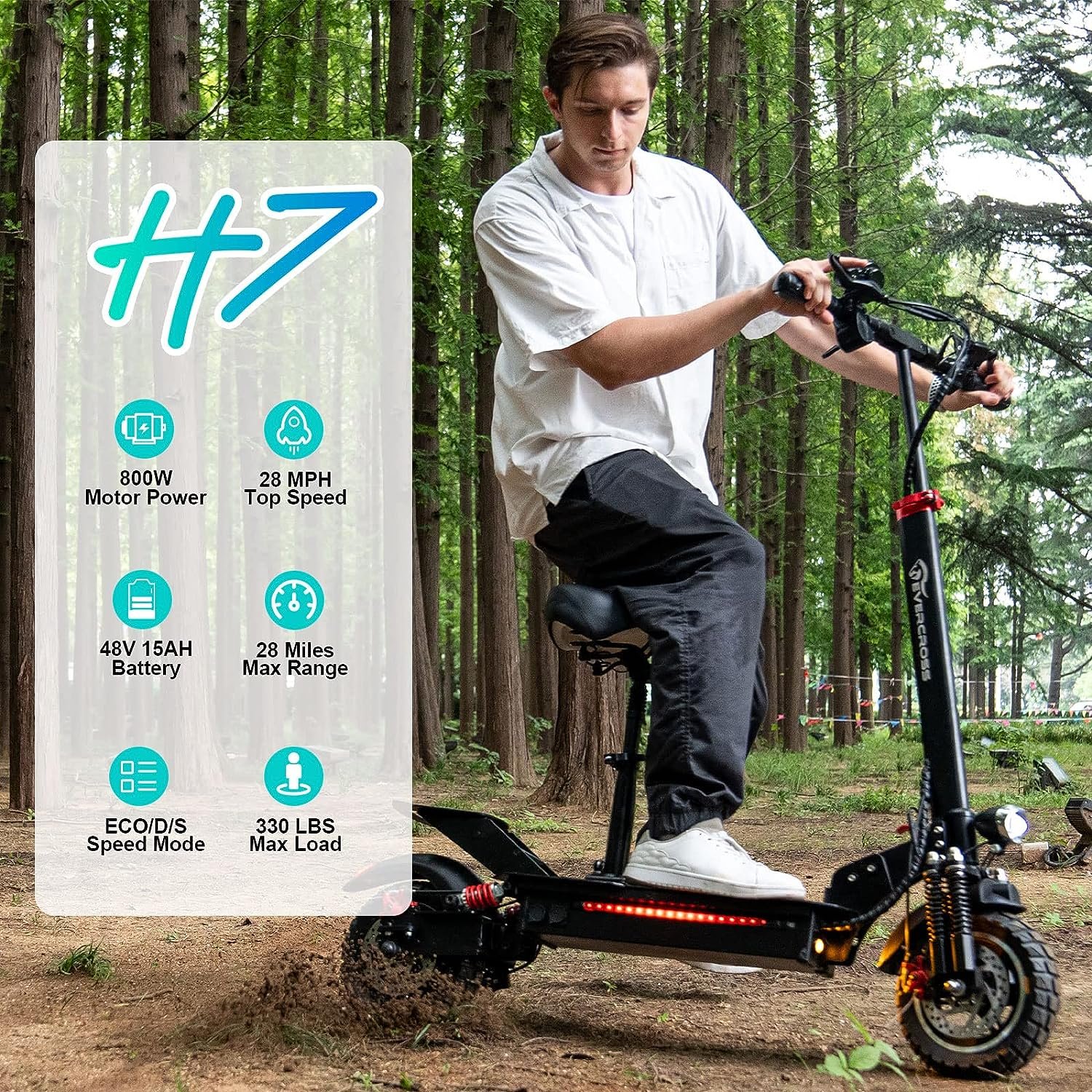 Evercross H7 – Pros and Cons
Pros:
Powerful motor and long battery life for extended rides
Off-road tires and shock-absorption systems for versatile terrain navigation
Detachable seat design for customizable riding experiences
App-enabled features for enhanced control and convenience
Superior braking system for a safer riding experience
Durable construction and quality materials for long-term reliability
Cons:
Higher price point compared to some other electric scooter options
Heavier weight may make it less portable for some individuals
Evercross H7 – FAQ's
Q: How fast can the EVERCROSS H7 electric scooter go? A: The H7 scooter can reach a top speed of 28 MPH, allowing for a fast and efficient commute or a thrilling ride.
Q: What is the maximum riding range of the H7 scooter? A: The H7 scooter can travel up to 28 miles on a single charge, making it suitable for longer rides or commutes.
Q: Can I remove the seat on the H7 scooter? A: Yes, the H7 scooter has a detachable seat design, allowing you to choose between sitting and standing while riding.
Q: Is the H7 scooter suitable for off-road riding? A: Yes, the H7 scooter is equipped with 10-inch solid off-road tires and multiple shock-absorbing systems, making it suitable for off-road adventures.
Q: Can I control the H7 scooter through my phone? A: Yes, the H7 scooter is app-enabled, and the "EVERCROSS PRO" app allows you to open/lock the scooter, control the cruise function, and access ride data through your phone.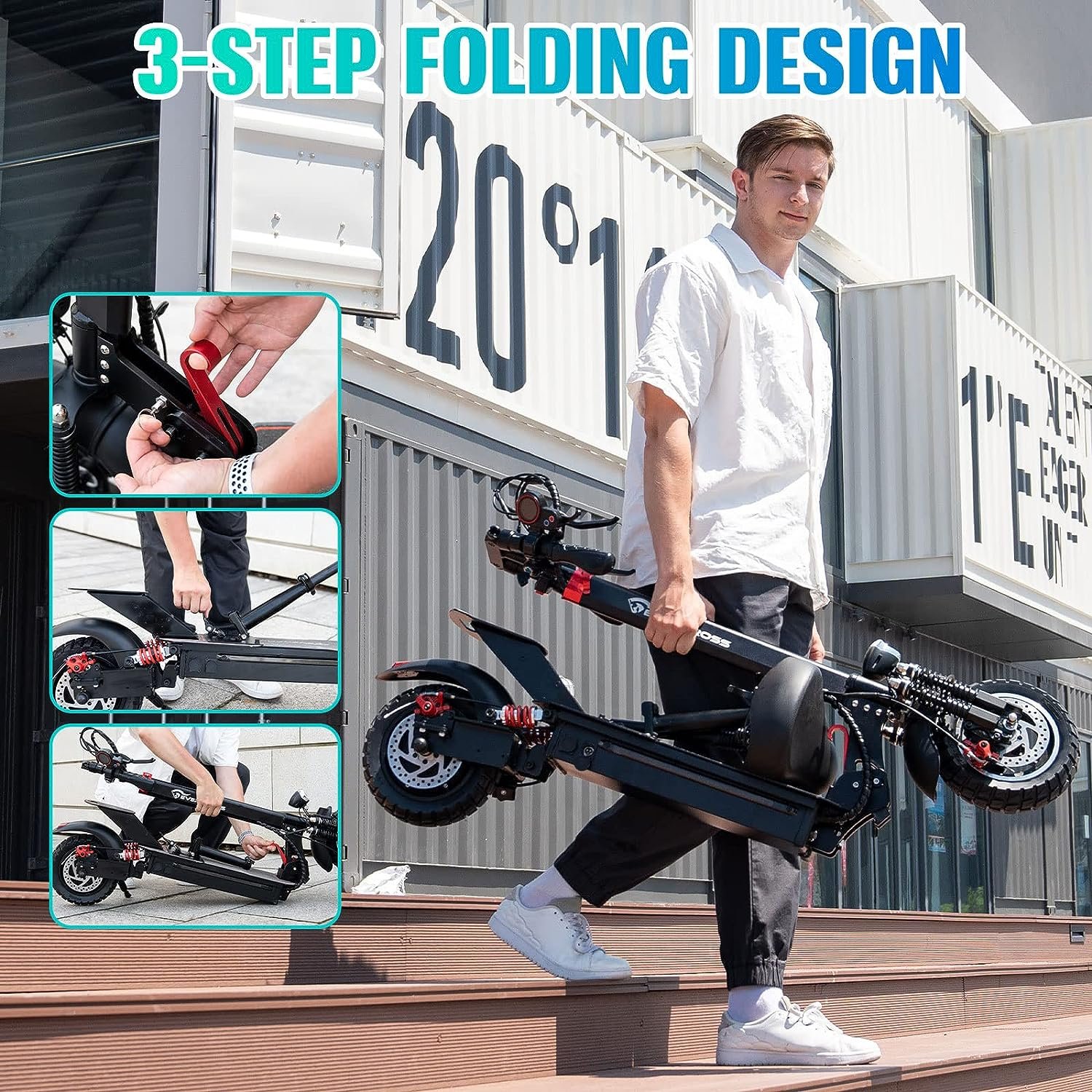 What Customers Are Saying
Customers who have purchased the EVERCROSS H7 electric scooter have expressed their satisfaction with its performance, durability, and convenience. Many have praised its powerful motor and long battery life, allowing them to travel longer distances without worrying about running out of charge. The off-road capabilities and shock-absorbing systems have also received positive feedback, with users appreciating the scooter's ability to handle various terrains. The detachable seat design has been lauded as a convenient feature that enhances the overall riding experience. Overall, customers have found the H7 scooter to be a reliable and enjoyable mode of transportation.
Overall Value
Taking into account the powerful motor, long battery life, off-road capabilities, and app-enabled features, the EVERCROSS H7 electric scooter offers exceptional value for its price. While it may have a higher price point compared to some other electric scooters on the market, its performance, durability, and versatility make it worth the investment. The H7 scooter provides a convenient and efficient mode of transportation for various purposes, whether it's commuting, urban exploration, outdoor adventures, or recreational rides.
Evercross H7 – Tips and Tricks For Best Results
Regularly check the tire pressure and keep them properly inflated for optimal performance and a smoother ride.
Use the app-connected features to control and customize your riding experience, such as adjusting the cruise function or monitoring your speed and distance traveled.
When riding off-road, take advantage of the multiple shock-absorbing systems by maintaining a relaxed posture and allowing the scooter to absorb the vibrations and bumps.
Keep the scooter's battery charged to maximize its range and performance. It is recommended to charge the battery fully after each ride or as needed.
Follow local laws and regulations regarding electric scooter usage, including wearing appropriate safety gear such as a helmet and obeying traffic rules.
Evercross H7 – Final Thoughts
The EVERCROSS App-Enabled Electric Scooter, with its powerful motor, long battery life, off-road capabilities, and convenient features, is a top choice for individuals seeking a reliable and enjoyable mode of transportation. Whether you're commuting to work, exploring the city, going on outdoor adventures, or enjoying recreational rides, the H7 scooter offers superior performance, versatility, and comfort. With its durability and app-enabled convenience, the EVERCROSS H7 electric scooter provides an overall excellent riding experience that is worth the investment. So, why wait? Experience the thrill and convenience of the EVERCROSS H7 electric scooter today!
Disclosure: As an Amazon Associate, I earn from qualifying purchases.