A New Way to Zoom Around Town
Electric scooters aren't just for kids anymore. In recent years, they've zoomed into the spotlight as a go-to choice for adults seeking a quick, eco-friendly way to move around the city. And when we talk about these electric wonders, the Evercross H5 Electric Scooter often buzzes into the conversation.
Evercross: The Name Behind the Ride
Evercross isn't just any brand. They've made a name for themselves in the world of electric scooters, and their models have been turning heads on city streets. The Evercross Electric Scooter H5, with its sleek black design, is no exception. But looks aren't everything, right? Let's dive deeper into what this model offers.
Scooting Ahead with Features
One of the cool things about the Evercross H5 Scooter is that it's not just designed for teens but for adults too. With features like an 800W motor that can reach speeds of up to 28MPH and safety taillights for those nighttime rides, this isn't your average scooter. And did I mention it comes with a seat? Yup, this scooter lets you cruise in comfort.
Evercross H5: A Scooter Worth Talking About?
With so many electric scooters out there, the Evercross H5 Electric Scooter Review often highlights its mix of safety, power, and style. We'll be diving into all these features and more to give you an objective look at what this scooter is all about.
Deep Dive into the Features of the Evercross H5 Electric Scooter
Performance: Not Just Any Ride
Let's kick things off with what gives the Evercross H5 Scooter its zippy personality. This scooter is powered by an 800W brushless hub motor. In everyday lingo, that means it packs some serious power under the hood. It's designed to offer smooth acceleration, letting riders experience speeds up to a breezy 28MPH. Now that's something to chat about at your next hangout!
Going the Extra Mile, Literally!
When you're out and about on your electric scooter, the last thing you want is to be constantly hunting for the nearest charging point. The Evercross Electric Scooter H5 boasts a high-capacity battery that promises a range between 18 and 28 miles. While factors like rider weight, terrain, and speed can influence this, on average, you're looking at a lot of uninterrupted cruising time. And isn't that the dream?
Illuminate Your Path: Safety First
Visibility isn't something to compromise on, especially when you're riding after sunset. That's where the LED headlights and safety taillights of the Evercross H5 come into play. Bright and long-lasting, these lights ensure you're seen by others and, more importantly, you have a clear view of the path ahead. And for the stability part? The scooter's 10" solid tires provide a grip that handles urban landscapes with ease, ensuring fewer jolts and jitters.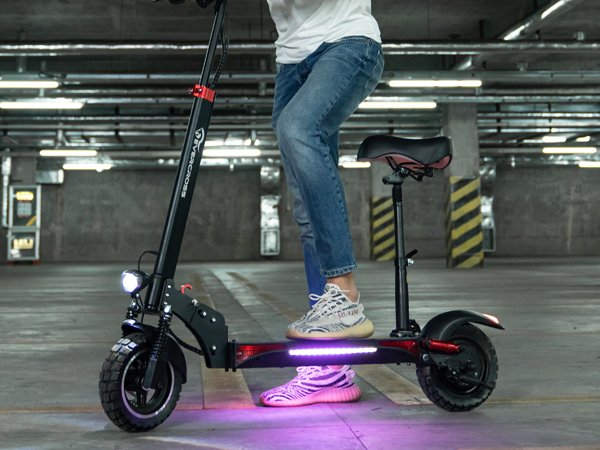 Ride in Comfort: Sit or Stand
The Evercross H5 sets itself apart with one standout feature that many riders will truly appreciate: its detachable seat. This isn't a mere afterthought but a well-designed component that enhances the scooter's versatility. While many electric scooters only offer a standing option, the H5 ensures riders can opt for a more relaxed journey if they wish. The seat is comfortably cushioned, offering a smooth ride even on longer journeys. The detachability aspect means that you're not committed to one mode—want to stand and get a more active feel of your ride? Just detach the seat. Prefer a seated cruise around town? Attach it back in a jiffy. It's this flexibility that caters to both the leisurely riders and those seeking a more dynamic experience. The seat is a testament to Evercross's commitment to user comfort and adaptability in their H5 design. See other scooters with seats here.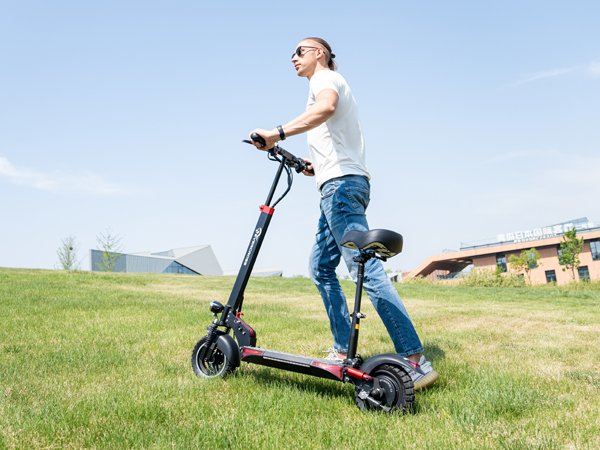 3 Different Speed Modes
Ever been in one of those moods where you just want to take things slow? Or maybe you're in a rush and need to zip through? The Evercross H5 Scooter totally gets you. It boasts three adjustable speed modes, giving riders the freedom to pick their pace. Let's break it down. The first mode is the "Easy Breezy" (okay, it's not called that, but it's perfect for those leisurely rides in the park). The second mode cranks things up a notch, ideal for a swift cruise. And for those feeling the need for speed? The third mode has got you covered, letting you maximize the scooter's potential. Switching between modes is a cinch, so you're always in control. It's like having three scooters in one, ready to match whatever vibe you're feeling that day.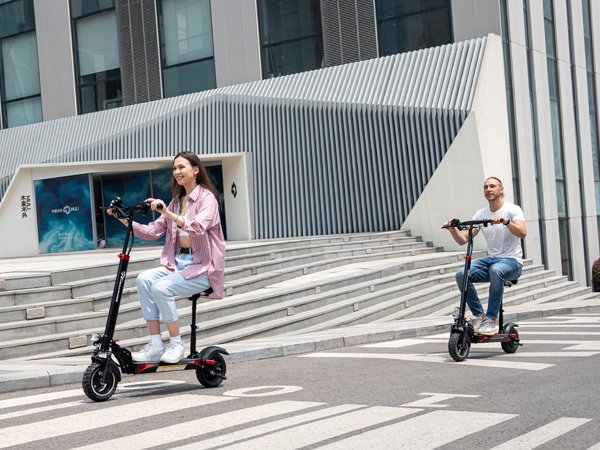 Fold and Go Design
Alright, let's chat about one of the coolest features of the Evercross H5 Scooter – how it folds up. Picture this: You've just finished a fun ride around town, and now you want to hop on the bus or head into a cafe. You don't want to leave your scooter outside, right? No problem! With a super easy one-step process, the H5 transforms from a full-size scooter into a compact bundle of joy. It's like a magic trick! This nifty design means carrying it or storing it becomes a breeze. And let's not forget how much of a space-saver this is for apartment dwellers. If you've got limited storage or just don't want your scooter taking up too much room, the Evercross H5's foldability is a game-changer. It's all about making life easier for riders on the go.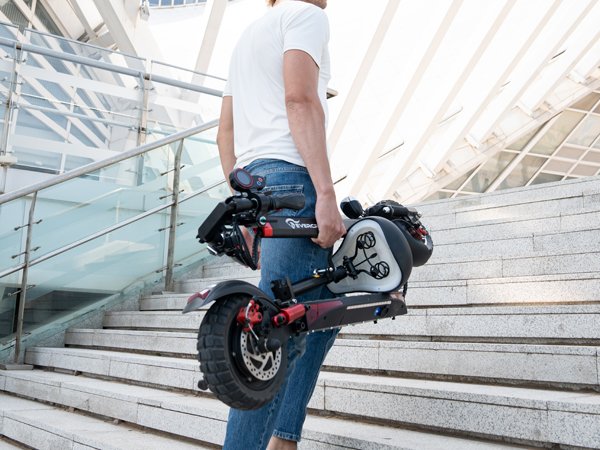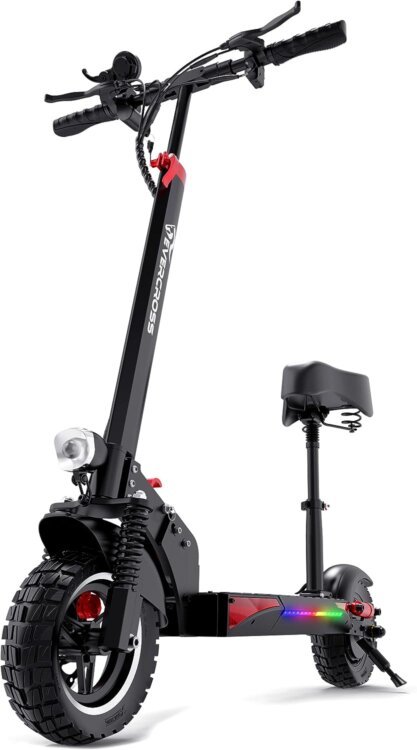 Product Quality
The EVERCROSS H5 Electric Scooter is built with exceptional quality and durability. Its robust construction ensures that it can withstand daily use and any potential wear and tear. Rest assured that you are investing in a reliable scooter that will last you for years to come.
Additionally, the scooter's battery life and performance have been optimized to provide a smooth cruising experience. With an 800W brushless hub motor, it delivers excellent power and speed while maintaining a long-lasting battery life.
What It's Used For
Daily Commutes
With its impressive speed and long cruising range, the EVERCROSS H5 Electric Scooter is the perfect choice for daily commutes. Say goodbye to traffic jams and hello to a hassle-free and eco-friendly mode of transportation. Whether you're heading to work, running errands, or exploring your city, this scooter will get you there efficiently.
Recreational Rides
Not only is the EVERCROSS H5 Electric Scooter ideal for practical purposes, but it's also perfect for recreational rides. Explore your neighborhood, meet up with friends, or simply enjoy the fresh air while riding this top-of-the-line scooter. Its comfort, stability, and smooth riding experience will make each outing a joy.
Eco-Friendly Alternative
Concerned about your carbon footprint? The EVERCROSS H5 Electric Scooter is an eco-friendly alternative to traditional transportation methods. By opting for this electric scooter, you contribute to a cleaner and greener environment. Join the movement towards sustainable transportation and make a positive impact on the planet.
Fitness Companion
Looking for a fun and efficient way to stay active? The EVERCROSS H5 Electric Scooter provides an enjoyable exercise option. Incorporate scooter rides into your fitness routine and enjoy the benefits of improved cardiovascular health and increased stamina. It's an excellent way to make exercise enjoyable and accessible.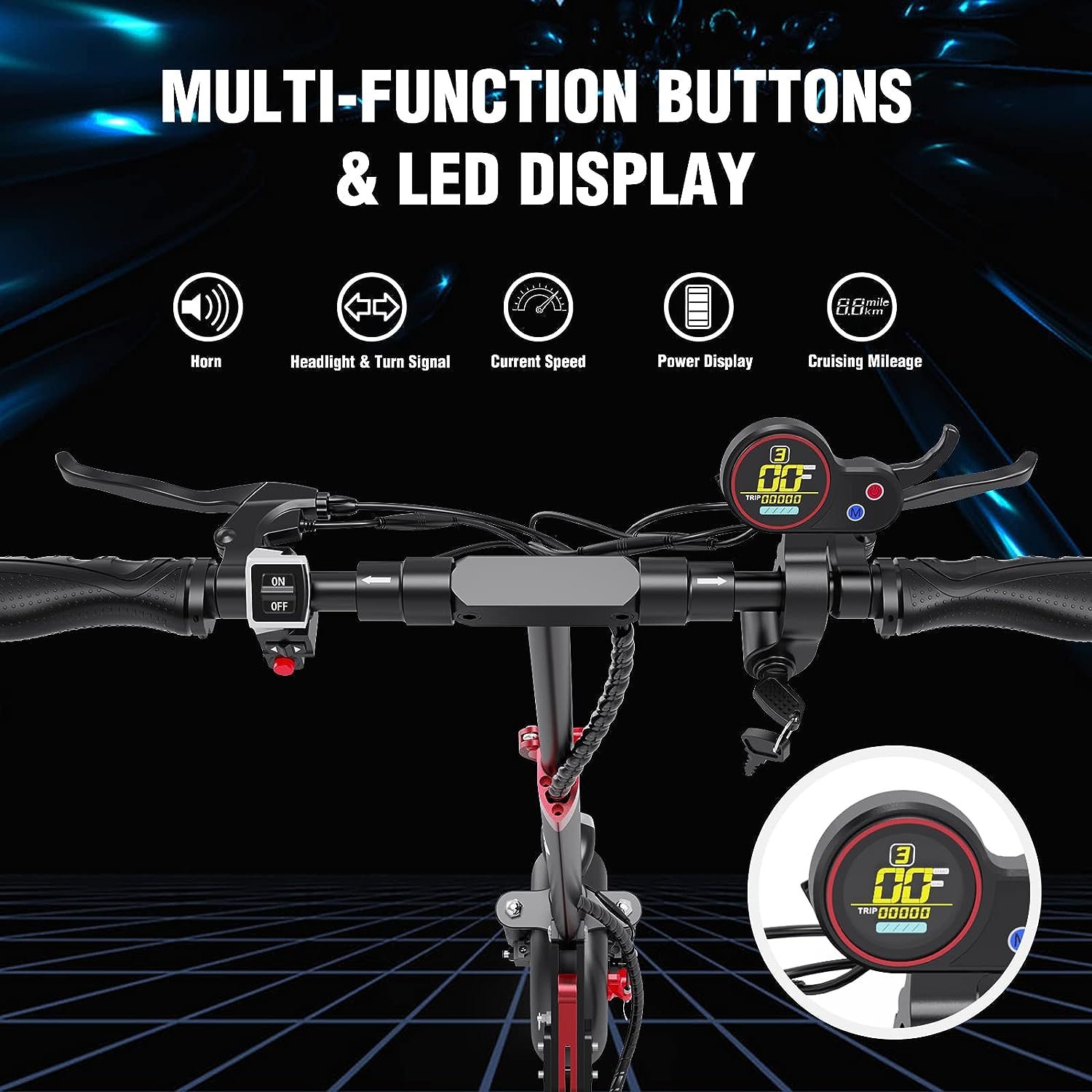 Product Specifications
(Different table layouts can be used. Below is a sample format.)
| Specification | Details |
| --- | --- |
| Motor Power | 800W (peak power) brushless hub motor |
| Maximum Speed | Up to 28 mph |
| Cruising Range | 18-28 miles |
| Maximum Load | 330 pounds |
| Tire Size | 10" solid tires |
| Folding Design | One-step folding design |
| Battery Capacity | High capacity battery |
| Braking System | Dual Braking System |
| Speed Modes | 3 cruise speed modes |
| Additional Features | LCD Display, LED Headlights, Safety Taillights, Cruise Control System, Fault Self-detection, Shock Absorption, Electric Horn |
Who Needs This
The EVERCROSS H5 Electric Scooter is perfect for anyone looking for a reliable and efficient means of transportation. Whether you're a busy professional, a student, or simply someone who enjoys recreational rides, this scooter is for you. It accommodates riders of various sizes and is suitable for adults and teens alike.
Pros and Cons
Pros
Revolutionary Dual Braking System for enhanced safety
Function LCD Display for clear and convenient information
LED Headlights and Safety Taillights for increased visibility
10" solid tires for a smooth and stable riding experience
Three cruise speed modes for personalized riding
Folding design for easy transportation and storage
Comfortable seat for added convenience
Cons
Maximum load of 330 pounds may not be suitable for some riders
Cruising range may vary depending on riding conditions and rider weight
FAQ's
How fast can the EVERCROSS H5 Electric Scooter go?

The scooter can reach a maximum speed of about 28 mph, providing a speedy commuting option.

Is the scooter suitable for daily commutes?

Yes, the EVERCROSS H5 Electric Scooter is an ideal choice for daily commutes due to its speed, range, and folding design.

Can the scooter handle different terrains?

The 10" solid tires ensure a smooth riding experience on various terrains, providing stability and traction.

Is the battery removable for easy charging?

No, the battery is not removable. However, it can be charged while on the scooter, making it convenient for daily use.
What Customers Are Saying
"I've been using the EVERCROSS H5 Electric Scooter for my daily commute, and it has made a world of difference. It's fast, comfortable, and the folding design makes it easy to carry onto public transport. Highly recommended!" – John D.
"Having the dual braking system on the EVERCROSS H5 Electric Scooter gives me peace of mind when riding at higher speeds. It stops responsively even in emergencies." – Sarah M.
Overall Value
The EVERCROSS H5 Electric Scooter offers exceptional value for its price. With its numerous features, reliability, and durability, it exceeds expectations. From daily commutes to recreational rides, this scooter provides a smooth and enjoyable experience for riders of all ages.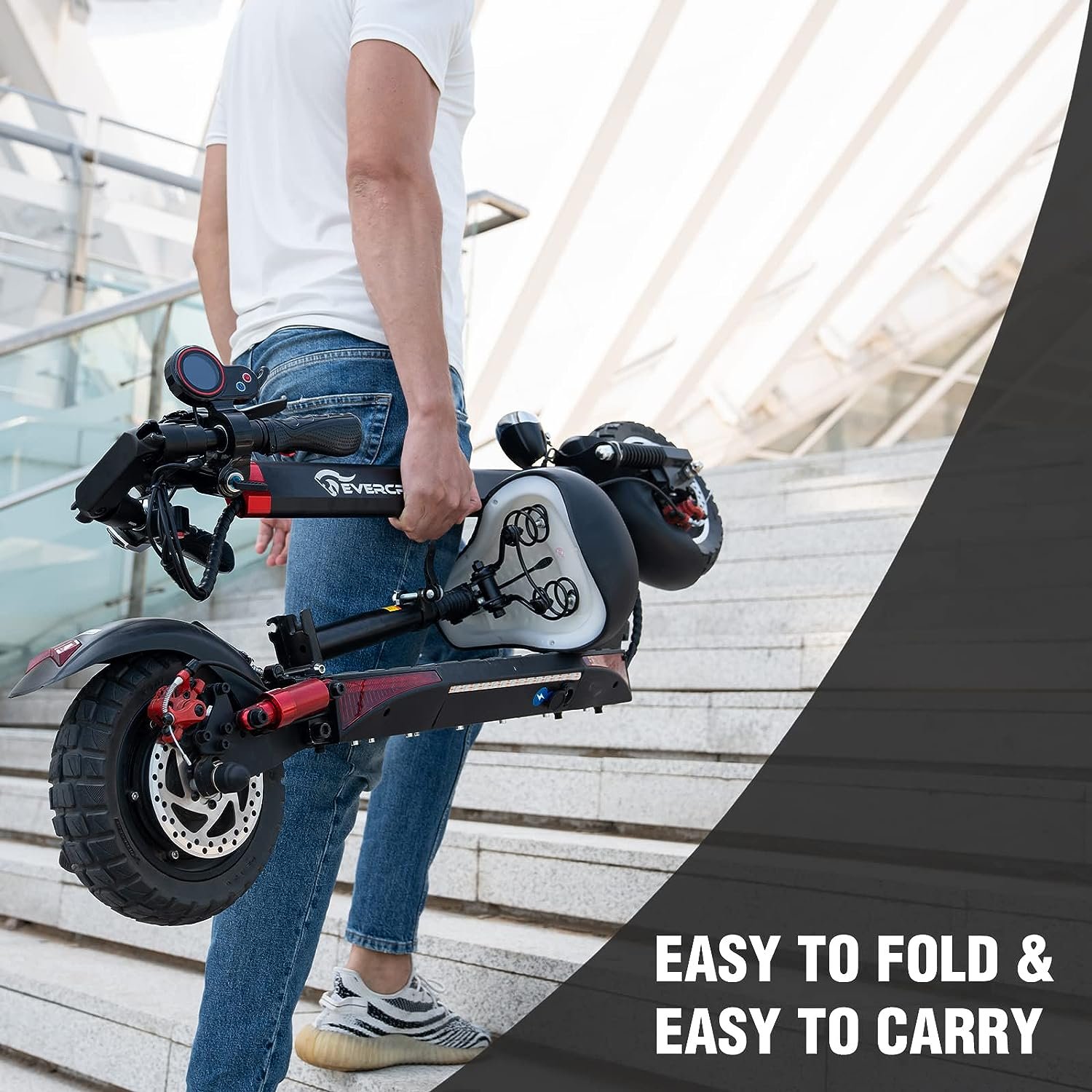 Tips and Tricks For Best Results
Regularly check tire pressure to ensure optimal performance and a smooth ride.
Familiarize yourself with the different speed modes and choose the one that suits your riding style and conditions.
Keep the scooter's battery charged for maximum efficiency and performance.
Follow local traffic laws and regulations to ensure a safe and responsible riding experience.
Final Thoughts
Product Summary
In summary, the EVERCROSS H5 Electric Scooter is a game-changer in the world of electric scooters. With its advanced features, reliable performance, and convenient folding design, it offers a convenient and efficient mode of transportation for adults and teens. Whether you're commuting to work or enjoying recreational rides, this scooter will not disappoint.
Final Recommendation
If you're in the market for a high-quality electric scooter that prioritizes safety, stability, and convenience, look no further than the EVERCROSS H5 Electric Scooter. Its impressive features, excellent performance, and durability make it a worthwhile investment. Say goodbye to long commutes, traffic, and pollution, and say hello to a new way of getting around with this top-of-the-line electric scooter.
Disclosure: As an Amazon Associate, I earn from qualifying purchases.